March 1st, 2010
Ordained Gelong Tenzin Tharpa by His Holiness the 4th Dalai Lama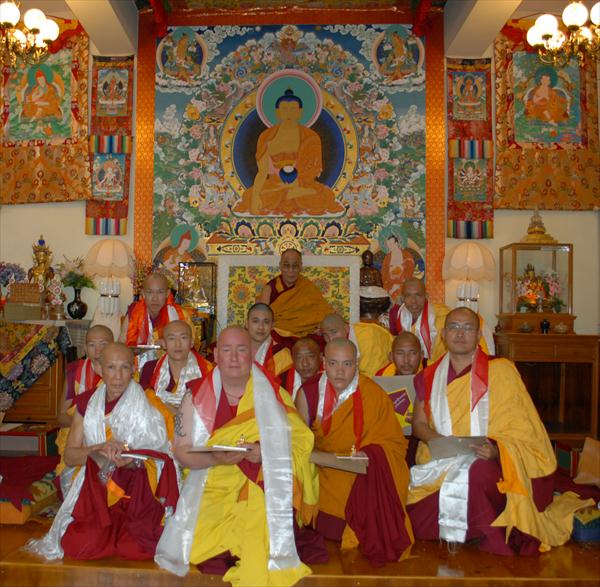 My Ordination Story
The month of February started with a month long ordination retreat to prepare and educate my class and myself in proper monk conduct, vows, responsibilities and what His Holiness The Dalai Lama requires from us.
We where all receiving our first novice monk ordination and very excited to be getting to meet His Holiness and be ordained in his private temple. The ceremony was incredible and so amazing to see His Holiness. The ordination went perfect, But as I was offering the traditional "Kata" (white offering scarf) to him at the end. He pulled me in close and asked if I wanted full ordination. I was shocked and as you can imagine quite overwhelmed just being in his presences. So of course I said yes and he had me stand aside from the others. After, we all went out in the hall, to my surprise everyone was very angry with me telling me that this was "just not done" and there must have been a mistake and said they where sorry but I just could not be ordained as a full monk in one day. But I didn't take no for an answer. I started asking His Holiness's senior monks to help me. I was told I didn't have the right robes for full ordination and it would just not be possible to get them on such short notice. I continued to beg for help, when out of the corner of my eye I saw one of H.H. senior monks walking toward me with a complete set of his own Gelong (Fully Ordained) monk robes. Smiling he told me that I was to put them on and keep them. Finally no one could find any other reason to stop me.
As I entered the temple for my 2nd ordination that day, all the Dalai Lama's senior monks on stage and H.H looked back saw me in my Gelong robes and all let out a big laugh and smiled as if saying, "The guy pulled it off". I continued and finished the ceremony. At the end, when offering the white scarf once more to his H.H. the Dalai Lama. He took me by the hand, pulled me in, and laughing with a huge smile, patted me on the cheek. I thanked him and left the temple in a daze.
Well that's the story. I'm still dazed and feel very humbled by the experience and now I'll try to earn and repay his kindness, try to figure out what he saw in me and work hard in my studies.   
---